Mai nap nagy nap a távoktatás történetében. Elkezdődött valami, amit sokan nem hittek, hogy lehetséges. Bennem is vannak kétségek ezzel kapcsolatban (hiszek a személyes tanári jelenlét csodájában), de nagy kiváncsisággal követem az eseményeket.
A Georgia institute of Technology és a Udacity csapata az AT&T támogatásával meghirdetett online computer science master képzésének ma van az első napja.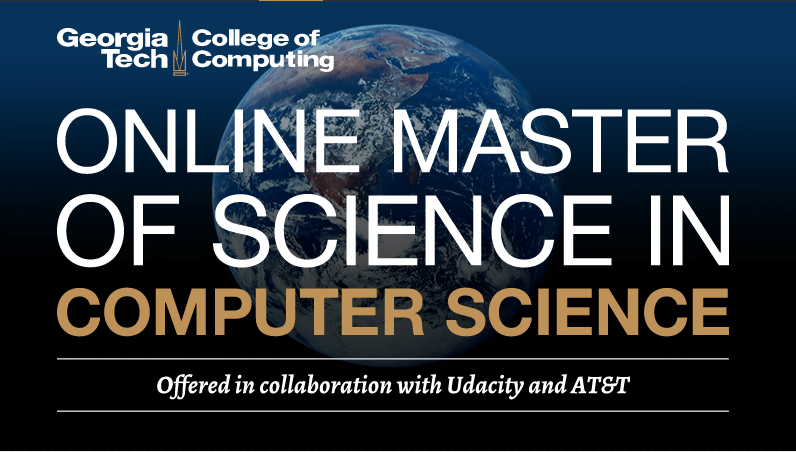 Eddig is volt rengeteg példa, hogy bizonyos egyetemi tárgyakat el lehetett végezni távoktatásban. Sőt a Coursera hatalmas előnye, hogy itthonról a világ legjobb oktatóit hallgathatom, de ezek mind 1-1 izgalmas tantárgyat dolgoztak fel. Amire most a GT és a Udacity vállalkoztak az valami teljesen más.
Miért? Mert nem csak az érdekes dogokat tanítják. Egy mesterképzésben nincs már az a fajta szabadság, ami egy Coursera vagy Udacity felvett tantárgyban adatik a felhasználói oldalon. Itt komoly felvételi követelmények vannak, s ezért a képzésért fizetni kell.
Felvételi követelmények vannak:
Preferred qualifications for admitted OMS CS students are an undergraduate degree in computer science or related field (typically mathematics, computer engineering or electrical engineering) from an accredited institution with a cumulative GPA of 3.0 or higher. Applicants who do not meet these criteria will be evaluated on a case-by-case basis, however work experience will not take the place of an undergraduate degree. The following are required for admission:

– Evidence of award of a 4-year bachelor's degree or its equivalent (prior to matriculation) from a recognized institution, demonstrated academic excellence and evidence of preparation in their chosen field sufficient to ensure successful graduate study
– For international applicants, satisfactory scores on the Test of English as a Foreign Language (TOEFL)
Ez az oktatás olyan formában nem a mindenki oktatása, mint ahogyan arról Daphne Koller beszél. Viszont egy olyan kapu nyílt ki a mai nap, ami hatalmas változásokat hozhat az oktatás és az online oktatás világába.
A mai nap kitárult egy amerikai egyetem kapuja a világ minden diákjának (megfelelő előkövetelményeket, aki teljesítette, s az oktatási díjat befizette), tanulni vágyójának. A mesterképzés nem olcsó így sem, de összehasonlíthatatlan a "normál" képzéssel.
Kövessétek az eseményeket a képzés weboldalán, illetve Facebook oldalán! Nagy érdekéődéssel várom hogyan alakul a képzés, s lesznek-e követői ennek a kezdeményezésnek.